Blue

Blue Radius III Custom Shockmount
Overview
Radius III is a vintage-style suspension mount designed to isolate Yeti and Yeti Pro USB microphones from noise, shock and ambient vibration. Radius III features a new streamlined, lighter weight design, perfect for on-camera streaming. Custom designed for the Yeti and Yeti Pro microphones, Radius III is compatible with standard microphone stands and also works with virtually any microphone or mic clip that has a standard thread mount. Taking your recording and streaming productions to the next level, Radius III is the perfect companion to get the most from your Yeti or Yeti Pro USB mic.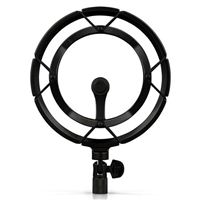 Blue Radius III Custom Shockmount
Usually ships in 5-7 business days.