Razer Razer Kraken Kitty Chroma USB Wired Gaming Headset

Cooling Gel-Infused Ear Cups, Active Noise-canceling Microphone - Quartz
Overview
Cooling Gel-Infused Ear Cups, Active Noise-canceling Microphone - Quartz
Create the purrfect gaming look with your own killer kitty style. Express your own unique personality and passion in the most colorful way imaginable with the Razer Kraken Kitty Edition - a USB gaming headset with highly customizable lighting thats every shade of awesome.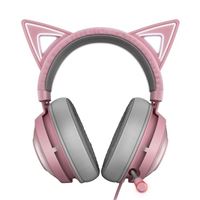 Razer Kraken Kitty Chroma USB Wired Gaming Headset

Cooling Gel-Infused Ear Cups, Active Noise-canceling Microphone - Quartz
Usually ships in 5-7 business days.