Acer

Acer ET322QU Abmiprx 31.5" WQHD 75Hz HDMI VGA DP FreeSync IPS LED Monitor
Overview
Delve into the world of awesome with Acer's ET322QU monitor, which offers an unmatched viewing experience. An extra-large 31.5 screen delivers astonishing, 2560 x 1440 WQHD resolution with excellent detail and world-class sound, bringing the movie theater experience to you! With the 6-axis color adjustment, images are as vivid and crisp as possible pushing the entertainment experience to another level. Includes richer graphics so, you can view clearly at angles of up to 178 degree while maintaining the same level of high-quality color. Popcorn not included.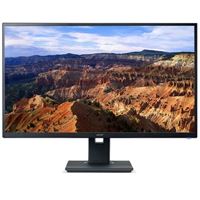 Acer ET322QU Abmiprx 31.5" WQHD 75Hz HDMI VGA DP FreeSync IPS LED Monitor
Usually ships in 5-7 business days.