Adafruit Industries

Adafruit Industries CRICKIT FeatherWing
Overview
Plug in any Feather mainboard you want into the center, and you're good to go! The Crickit is powered by seesaw, our I2C-to-whatever bridge firmware. So you only need to use two I2C data pins to control the huge number of inputs and outputs on the Crickit. All those timers, PWMs, sensors are offloaded to the co-processor.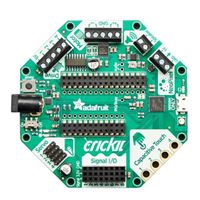 Adafruit Industries CRICKIT FeatherWing
Usually ships in 5-7 business days.