Adafruit Industries

Adafruit Industries VEML6070 UV Index Sensor Breakout
Overview
This little sensor is a great way to add UV light sensing to any microcontroller project. The VEML6070 from Vishay has a true UV A light sensor and an I2C-controlled ADC that will take readings and integrate them for you over ~60ms to 500ms.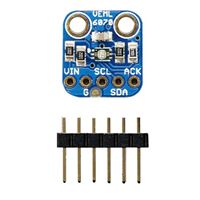 Adafruit Industries VEML6070 UV Index Sensor Breakout
Usually ships in 5-7 business days.