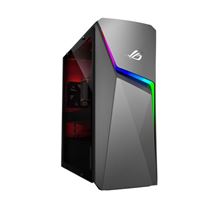 ASUS ASUS ROG Strix GL10DH Gaming Desktop PC

AMD Ryzen 7 3700X Processor 3.6GHz; NVIDIA GeForce RTX 2070 Super 8GB GDDR6; 16GB DDR4-2666 RAM; 512GB NVMe SSD
Get up to 2 games plus 3 months of Xbox Game Pass with select AMD products
Overview
AMD Ryzen 7 3700X Processor 3.6GHz
NVIDIA GeForce RTX 2070 Super 8GB GDDR6
16GB DDR4-2666 RAM
512GB NVMe SSD
Microsoft Windows 10 Pro
ROG Strix GL10DH is a Windows 10 gaming desktop that delivers phenomenal gaming experiences powered by an AMD Ryzen 7 3800X Processor and NVIDIA GeForce RTX 2070 graphics. Its high-performance M.2 PCIe SSD offers superfast storage and quicker load times for your growing games library. Customize your experience in Armoury Crate, which offers Aura Sync personalization and performance optimization in a single streamlined utility.
ASUS ROG Strix GL10DH Gaming Desktop PC

AMD Ryzen 7 3700X Processor 3.6GHz; NVIDIA GeForce RTX 2070 Super 8GB GDDR6; 16GB DDR4-2666 RAM; 512GB NVMe SSD
Usually ships in 1-3 business days.