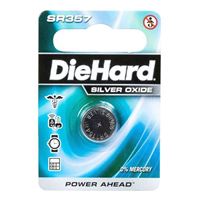 Dorcy

Dorcy DieHard SR357 1.5 Volt Silver Oxide Button Cell Battery - 1 Pack
Overview
Get reliable power from this mercury-free SR357 battery from DieHard. This silver oxide battery is designed for use in medical devices, key fobs, watches and small electronics. You'll enjoy optimal service life and consistent performance.
Dorcy DieHard SR357 1.5 Volt Silver Oxide Button Cell Battery - 1 Pack
Usually ships in 1-3 business days.