AOC

AOC 24B2XH 23.8" FHD (1920 x 1080) 60Hz HDMI VGA IPS LED Monitor
Overview
High quality display with high definition and wide viewing angles. This monitor comes with AOC Lowblue Light which protects you from harmful blue light; which during long sessions has been shown to cause eye strain, headaches, and sleeping disorders. AOC Lowblue Light feature reduces the harmful wavelengths emitted without sacrificing color composition, setting the experience free from the worry of eye damage. This display comes with an advanced IPS panel, which produces brilliant colors and offers wide viewing angles. This way, images always look excellent and accurate, regardless from which angle you are looking at the screen.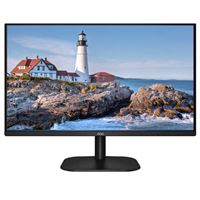 AOC 24B2XH 23.8" FHD (1920 x 1080) 60Hz HDMI VGA IPS LED Monitor
Usually ships in 5-7 business days.