BLU BLU Nokia 7.2 Unlocked 4G LTE - Charcoal Smartphone

GSM; 6 GB RAM/128 GB Storage; 6.3'' Full HD+ PureDisplay Display; 48 Megapixel + 8 Megapixel + 5 Megapixel Camera
Overview
GSM
6 GB RAM/128 GB Storage
6.3'' Full HD+ PureDisplay Display
48 Megapixel + 8 Megapixel + 5 Megapixel Camera
Android 9.0
Dual Nano SIM
Unleash your creativity with Nokia 7.2. Capture incredible photos, watch all your videos in HDR and go without charging for up to 2 days. Plus, it all runs smoothly on Android 9 Pie software so just when you think its at its best, it just keeps getting better.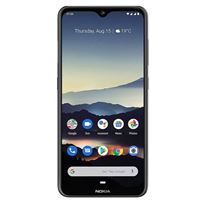 BLU Nokia 7.2 Unlocked 4G LTE - Charcoal Smartphone

GSM; 6 GB RAM/128 GB Storage; 6.3'' Full HD+ PureDisplay Display; 48 Megapixel + 8 Megapixel + 5 Megapixel Camera
Usually ships in 5-7 business days.