AntLion Audio

AntLion Audio ModMic Uni Headset Microphone
Overview
ModMic Uni delivers flexibility and quality together. Featuring a brand new uni-directional noise-canceling microphone, this analog microphone attaches to any headphones and keeps out unwanted noise better than ever and delivers superb sound quality. With the handy in-line mute switch, silence is always in reach. The universal 3.5mm termination makes the ModMic Uni a flexible option, compatible with nearly every device on the market. Thanks to this jack, it works with most PCs right out of the box and is compatible with PS4 and Xbox consoles through a simple Y adapter (sold separately). Other adapters may be required for other devices such as USB or XLR.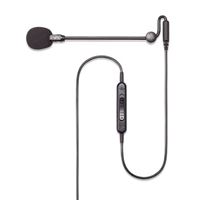 AntLion Audio ModMic Uni Headset Microphone
Usually ships in 5-7 business days.