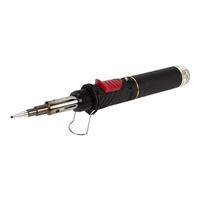 Performance Tools

Performance Tools 3-in-1 Refillable Solder Iron
Overview
3-in-1 butane tool functions as a soldering iron / heat gun / torch is ideal for working on electronics, shrink tubing, light gauge welding, brazing, general heating or drying, PVC bending, and crafts. Self-ignition switch with safety lock, flame lock-on and built-in kick stand for hands-free operation is cordless, simple and ready to use 15 seconds after ignition. The most compact tool of its kind on the market at only 6.5" it can easily access tight spaces and small enough to travels in tool bags or holster. Control temperature by sliding the flame adjustment lever from left and right: Soldering tip: up to 752F (400C), Hot blower tip: up to 932F (500C), Blow torch tip: up to 2372F (1300C). The clear 8.5ml tank allows you to monitor exact butane levels so you never run out and provides up to a 40 min run time. (Butane not included). 8 interchangeable tips: soldering tip, shaping knife, deflector for shrink tubing, bevel tip, chisel tip, long thin round tip for hard to reach places, blow torch shield and threaded insert end. Kit also includes protective cap for the end of iron, stand with integrated sponge for cleaning tips, lead free solder and clear lid storage case.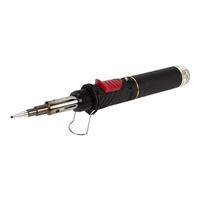 Performance Tools 3-in-1 Refillable Solder Iron
Usually ships in 5-7 business days.