Casematix

Casematix TAC17 for Xbox One S
Overview
This hard case has an internal padded foam compartment designed to hold the XBOX One S and is easy to transport using its convenient carrying handle. Measuring 17.0? x 14.0? x 6.0? in exterior dimensions, this case is perfect for securing and protecting your Console while traveling. There are also two padlock holes for added security if desired. Perfect for bringing to a friends house, airport, throwing in your car and more. There is also a small side compartment to house the power cable and a separate compartment to hold one remote controller. An HDMI Cable and game can be placed on top of the XBOX and separated by an included foam layer.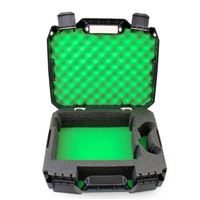 Casematix TAC17 for Xbox One S
Usually ships in 5-7 business days.