XSense Connectivity

XSense Connectivity TENC Air Case for iPhone 11 - Clear
Overview
The iPhone is the emperor of smartphones and this super-slim case is The Emperors New Clothes, giving you regal protection while revealing the iPhone in all its naked glory. Combining a crystal-clear hardshell back with shockproof thermoplastic sides, TENC is specifically designed to protect glass-backed iPhones offering all round protection from bumps, scrapes and dust.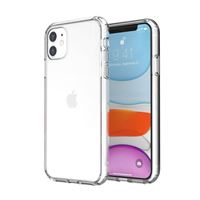 XSense Connectivity TENC Air Case for iPhone 11 - Clear
Usually ships in 1-3 business days.