Tile Inc.

Tile Inc. Mate + Slim (2020) 4-pack
Overview
To get starrted just download the Tile app and follow the simple in-app instructions to activate your Tile. You can use get anonymous help finding your Tiles from the Tile community. The Tile app running on their phones will send location updates to your app, letting only you know where your Tile is. Tiles work with Amazon Alexa and Google Assistant to make finding easier than ever. The Tile Slim slides into hidden spots or keeps a low-profile on your devices.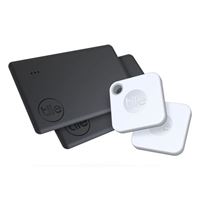 Tile Inc. Mate + Slim (2020) 4-pack
Usually ships in 1-3 business days.