Tile Inc.

Tile Inc. Pro (2020) 1-pack - Black
Overview
Our most powerful tracker has a replaceable battery so it will last as long as you need it. Compatible with iOS 11 or newer devices, along with Google Pixel, Samsung Galaxy, Samsung Note, Nexus and most other Android devices equipped with Android 6.0 or newer.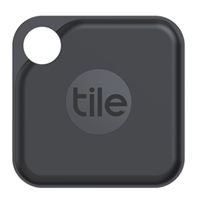 Tile Inc. Pro (2020) 1-pack - Black
Usually ships in 1-3 business days.