Aluratek

Aluratek Bluetooth 5.0 Audio Transmitter
Overview
Alurateks Universal Bluetooth Audio Transmitter with Bluetooth 5 is the perfect solution to add Bluetooth transmitting functionality to any audio output device with a 3.5 mm AUX/headset OUT or RCA output jack. Transmit audio wirelessly from a TV, stereo, desktop computer, laptop, walkman, CD player, MP3 player or even a motorcycle to a Bluetooth enabled device like Bluetooth headphones, Bluetooth earbuds and Bluetooth speakers. Simply connect the transmitter using the included 3.5 mm or RCA Y-cable for the best desired set-up. The transmitter features power ON / OFF button and a built-in rechargeable battery so you can enjoy wireless audio transmitting up to 33 feet away from the transmitter for up to 10 hours on a full charge.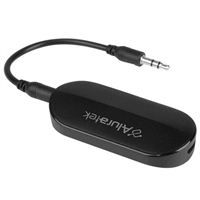 Aluratek Bluetooth 5.0 Audio Transmitter
Usually ships in 1-3 business days.