CTA Digital

CTA Digital Adjustable Gooseneck Floor Stand for iPad
Overview
Comfortably use your iPad in your home or office space and adjust it to any viewing angle, orientation or position you may desire with CTA Digitals Universal Height-Adjustable Gooseneck Floor Stand for iPad. Perfect for the living room, bedroom or workstation; this height-adjustable stand is lightweight and flexible, so it can easily be moved and set up anywhere to enjoy apps, videos and everything you need from your tablet. Whether youre standing, reading notes or music, preparing for a performance or giving a presentation; laying down watching a favorite movie; sitting, working on a project, browsing or playing a game, youll find comfort and convenience using your iPad with this adjustable floor stand.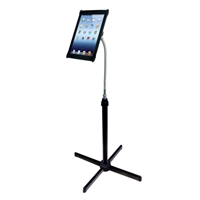 CTA Digital Adjustable Gooseneck Floor Stand for iPad
Usually ships in 5-7 business days.