CTA Digital

CTA Digital Tabletop Arm Mount for iPad & Tablets
Overview
For that ideal fixture to turn your tablet into a perfect accessory for the table, desk or countertop, look no further than CTA Digitals Tabletop Arm Mount for Tablets. Designed with two adjustable grips, one spring-loaded and the other activated by a quick-release button on the back, this mount conveniently works for any tablet, whether its the iPad Pro, Samsung Galaxy Note Pro or Microsoft Surface Pro 3. The durable metal arm of the mount is built to last and perfectly accents home dcor with its design. The frame also has five hinges, making it easily adjustable using only one hand and giving it a maximum stand-up height of 12 inches. CTA Digitals Tabletop Arm Mount for Tablets also features a simple cable routing system that helps keep all the attached cables neatly secured and everything looking good.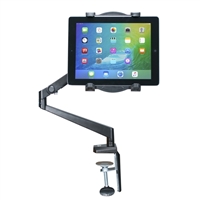 CTA Digital Tabletop Arm Mount for iPad & Tablets
Usually ships in 5-7 business days.