Limitless Innovations

Limitless Innovations USB 2.0 (Type-C) Male to USB 2.0 (Type-A) Male Flat Design Charge Cable 4 in. -Black
Overview
The 4 in. USB Type-C to USB Type-A Charge Cable is a modern flat cable designed to be used with the ChargeHub or any USB device (it does not support fast charging applications). The short length of this cable makes it unique and convenient for charging devices at home or on-the-go!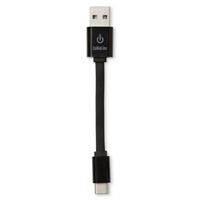 Limitless Innovations USB 2.0 (Type-C) Male to USB 2.0 (Type-A) Male Flat Design Charge Cable 4 in. -Black
Usually ships in 1-3 business days.