Turtle Beach

Turtle Beach Atlas Edge PC Audio Enhancer
Overview
The Turtle Beach Atlas Edge PC Audio Enhancer gives your existing headset an instant advantage on PC. Access Turtle Beachs Control Studio, an all-new, desktop software suite that enables a multitude of features to customize your audio including immersive Waves Nx 3D Audio, mic monitoring and the PC-optimized Superhuman Hearing from Waves, a Grammy winning innovator of state-of-the-art audio software. The Atlas Edge delivers full compatibility and easy set up through any PCs USB port. Additionally, the 3.5mm female jack connects with any passive wired gaming headset and with 66 inches of cable length, works with any PC gaming setup.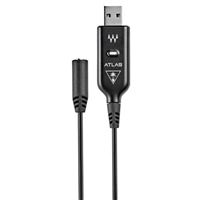 Turtle Beach Atlas Edge PC Audio Enhancer
Usually ships in 1-3 business days.