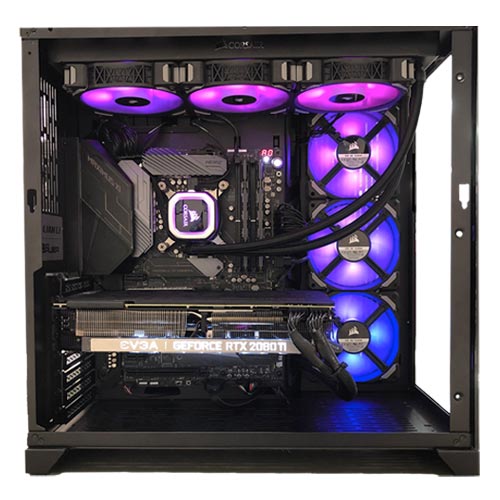 Custom Water Cooled PC Repair Service - Tier 3

Issues with building your PC? Let us rebuild the system for you!
Typically Completed in 1-2 Days
Issues with building your PC? Let us rebuild the system for you!
We require a complete and thorough Diagnostic in order to determine the cause of your problem, and the appropriate repairs needed to get you back up and running. Sometimes you run into unforeseen problems when assembling your PC, we completely understand. At Micro Center, our technicians build and repair all kinds of PCs, so we also offer a rebuild service, where we can take your partial build and get it up and running for you.
HOW IT WORKS
Bring in your equipment and any necessary parts, cables or accessories
Let us know any additional details of the repairs needed
Our certified technicians will get to work fixing your equipment
We'll contact you when your equipment is ready to be picked up
Summary
Our technicians will check parts compatibility and reassemble everything to create a fully functioning PC with an all-in-one cooler - if we run into any issues with malfunctioning or incompatible components, our store has thousands of PC parts ready to go so we can finish your PC without any shipping delays
Additional or replacement parts are sold separately from the rebuild fee
Tier 3 Rebuild Service Details
When performing a rebuild we first of all need to speak with you to understand what problems you are experiencing, such as error codes or power-up issues - we also need to understand the specs of the parts that are installed to verify compatibility and understand if we may need to replace any parts or update the BIOS
Once the initial consultation is complete we take your machine into the workshop and start our own inspection and troubleshooting process
We look at the installation of all components, such as CPU and RAM installation, front panel connectors, and other cables and headers
We correct any misconfigurations and if any faulty components are found we will contact you with options on how to proceed - most often we have a replacement part that we can pull from the retail floor - this may incur extra charges if the original part was not purchased from Micro Center, or not covered under a warranty or extended service plan
Once we have acquired all of the correct parts, we will reassemble your PC and perform a POST test to ensure that it's functioning properly and that it boots into the Operating System
What We Need From You

Let our technicians know the issues that you are experiencing - this will help us diagnose the issue and talk through what needs to be done to get it up and running again

Let us know where you sourced the parts and their condition - If they are new, you may be able to take advantage of a manufacturer warranty, or you can purchase a replacement part from our store

Also let us know if there are any changes or modifications you would like us to make, such cable routing, fan or LED strip placement
We'll Keep You Updated

When dropping off your PC, let us know if you prefer us to contact you by text or email - if for some reason we need more information from you while we are rebuilding your PC, we will text or email you with any questions we might have
We will send you regular updates as we work, and finally send you a message or call you when your PC is complete
Our Expertise
Since 1979 we've been selling, repairing, upgrading, and building computers. Our COMPTIA A+ and OEM certified technicians have repaired and upgraded thousands of PCs for personal and business use.
Our long standing, and deep industry relationships enables us to become authorized service providers for several top tier brands.
Authorized Service Provider for Top Tier Brands






Visiting the Micro Center Knowledge Bar
Select this service online, include a full and complete description for our technicians, then book an appointment to speak with one of our technicians
Reviews
Questions and Answers
Specifications
Service:
Custom Water Cooled PC Repair Service - Tier 3

Issues with building your PC? Let us rebuild the system for you!
Duration:
Usually 1-2 days
Subcategory:
Custom PC Build
Parts Warranty:
1 year for replacements parts, if your device is not covered under a manufacturer's warranty, or extended service plan. Warranty for retail parts are covered under the manufacturer's warranty and will vary by part and manufacturer.