Laut

Laut Capsule IMPKT for AirPods - Purple
Overview
Protect and wrap your AirPods in this ultra-tough monster - Capsule IMPKT. Ready for anything, the capsule is built to do one thing, and one thing only - survive. Made from a durable impact dissipating core material, with a hard polycarbonate front and back panel, the capsule is designed to take on almost any impact. Featuring a functional carabiner hook for quick-draw access and safety when on the move. The speckled design elements elevate the aesthetics into a class of its own. The capsule is designed for any active individual to protect the AirPods from any impact or bumps during the exercise.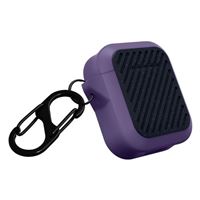 Laut Capsule IMPKT for AirPods - Purple
Usually ships in 1-3 business days.