Dell Dell XPS 8930 Gaming Computer

Intel Core i7 9700 3.0GHz Processor; NVIDIA GTX 1660 Ti 6GB GDDR6; 16GB DDR4-2666 RAM; 1TB SSD
NO LONGER CARRIED at Cambridge Store

Overview
Intel Core i7 9700 3.0GHz Processor
NVIDIA GTX 1660 Ti 6GB GDDR6
16GB DDR4-2666 RAM
1TB SSD
10/100/1000 LAN + WiFi 5 WLAN
Windows 10 Pro
Built with advanced graphics, all XPS Tower Special Edition configurations are VR-capable so you can be the first to experience the latest in virtual reality technology. In addition, select configurations meet the recommended specifications to power an ideal VR experience with either the HTC Vive or Oculus Rift headsets.
---
Eligible for Free Upgrade to Windows 11 when available from Microsoft
This device comes with Windows 10 and is eligible for a free Windows 11 Upgrade. The Windows 11 Upgrade will be delivered online to qualifying devices starting in late 2021 and into 2022. Timing will vary by device. Certain features require specific hardware requirements be met. See Microsoft Windows 11 Specifications and Requirements for additional information.
---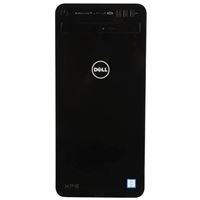 Dell XPS 8930 Gaming Computer

Intel Core i7 9700 3.0GHz Processor; NVIDIA GTX 1660 Ti 6GB GDDR6; 16GB DDR4-2666 RAM; 1TB SSD
NO LONGER CARRIED at Cambridge Store