LG

LG 32LM570BPUA 32" Class (31.5" Diag.) 720p HD HDR Smart LED TV w/ webOS
at Cambridge StoreSold Out

Overview
The HD 720p display offers a crisp, clear picture that brings dynamic color to your movies and shows. The processor improves images, action and color, while the resolution upscaler enhances picture quality. Plus, easily access streaming content through webOS and control your TV with devices that have the Google Assistant and Alexa built-in.
Thinking of leaving your cable provider?

You'll find helpful articles and FAQs about cutting the cord in our Tech Center.
---
Buy It Installed®
---
No more hassling with cables and plugs
We are now offering three options to help you make the most of your new TV purchase:
TV delivery and installation
TV installation only
TV delivery only
Option One
Purchase your TV, delivery, and installation, a Craftsman will contact you to schedule delivery and installation.
Option Two
Purchase your TV and installation, take the TV home with you, and a Craftsman will contact you to schedule installation.
Option Three
Purchase your TV and delivery, and a Craftsman will contact you to schedule delivery.
This transaction is enabled by Buy It Installed, Inc., an artificial empathy company, using the Installed Sales EcoSystem™. All On-Site Services are sold to you and provided by a Craftsman certified to install the Product you purchase. If you choose to use Buy It Installed, Inc., you will be asked to acknowledge and agree to its Universal Terms and Conditions.
---
Here's How It Works
Once you purchase installation, a Craftsman will contact you to schedule the installation service. As you prepare for your installation, be sure to purchase a compatible wall mount and line covers if desired.
Scope of Work
In-Scope work refers to all work included in your purchase of TV installation. It lists all services provided by the Craftsman, as outlined in your work order.
The Craftsman installing your new TV will:
Upon request, provide pickup and delivery of your TV
Measure the desired installation area and make sure your TV will fit
Locate studs and advise you of all installation details
Install or assemble the wall mount or stand to the TV. (Note: the wall mount must be purchased separately and be available at the time of installation.)
Program the remotes and connect your TV to your network or any device wires located in the same room
Ensure wires are neat and as hidden as possible; install in-line cover if provided
Thoroughly clean up the installation area in your home
Demonstrate how to use your new TV
Out-Of-Scope work refers to any additional parts or services required for installation that are not included in the Work order. If any Out-of- Scope work is necessary, your Craftsman will inform you in advance. You will also be informed of additional costs, if any apply, so you can decide if you want to proceed with the additional services
Out-of-Scope work can include, but is not limited to, the following: Installation of sound bar, or other accessories or materials; Installation in brick, concrete, stone, cinder block, or hollow block; Relocation of electric outlet; In-wall wire installation; Running new antenna wire; New internet connection or connectors; Provide mount, cables, or connectors not provided with the TV; Set up of streaming devices to Wi-Fi and restoring illegal services
---
It's That Easy
When your on-site service is complete, and you are pleased with the results, the craftsman will ask you to sign the on-site service completion form.
Buy It Installed, Inc. Total Happiness Guarantee
When you purchase an item with the Buy It Installed® solution, your total happiness with your on-site service is extremely important to Buy It Installed, Inc. Each purchase completed with the Buy It Installed solution is backed by the Total Happiness Guarantee. www.buyitinstalled.com/happiness.
© Service Trading Company, Inc. 2018. All rights reserved. Buy It Installed® is a trademark of Service Trading Company, Inc. Patents Pending in the United States and abroad.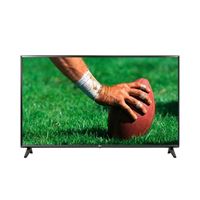 LG 32LM570BPUA 32" Class (31.5" Diag.) 720p HD HDR Smart LED TV w/ webOS
at Cambridge StoreSold Out