Next Level Racing

Next Level Racing F-GT Dual Position Simulator
SOLD OUT at Parkville Store

Overview
The revolutionary F-GT design allows you to be in true racing positions for both formula and GT racing. You no longer need an expensive cockpit just for formula racing as the Next Level Racing F-GT is suitable for all your racing titles by offering dual racing positions. Extras such as gear shifter support, seat slider, lumbar support cushion, height adjustable feet and the ButtKicker Gamer 2 adapter are all features which come included with the Next Level Racing F-GT making it the best value cockpit in the market. The patented design of the Next Level Racing F-GT ensures a rigid and solid cockpit but also many adjustments meaning you have your wheel, pedals and gear shifter in the best position to suit you as the driver. The steering wheel support is solid enough for professional direct drive steering wheels and the rigid design of the pedal plate ensures you have a solid racing experience.

F

-GT Formula and GT Simulator Cockpit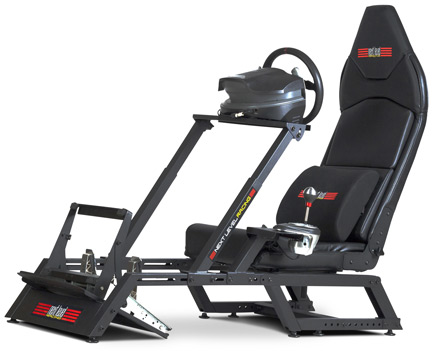 Electronics not included and for display purposes only.
Dual Racing Cockpit. Best Value.
The F-GT Formula and GT Simulator Cockpit will have you driving in perfect form whether you're into open-wheeled formula racing or circuit auto racing. The F-GT Simulator delivers everything you need for an immersive racing experience so realistic it's used by professional drivers as well as racing enthusiasts.
The rugged high-quality powder-coated steel frame has customizeable settings that adjust to give you every advantage against even your best competitors. This is the perfect racing simulator for a solid racing experience.
F-GT's Unique Features
Adjustable wheel height and angle
Adjustable pedal distance and angle
Included gear shifter support & comfortable lumbar support cushion
All major wheels and pedals supported; pre-drilled for Logitech, Thrustmaster, and Fanatec
Monitor and monitor stand sold separately.
Add Additional Components
Learn More about the Next Level Racing F-GT Simulator Cockpit
F-GT Cockpit Specifications
Dimensions – Formula 67 x 24 x 39 inches; GT - 55 x 24 x 49 inches
Supported Max Weight – 285lbs
Product Weight - 99 lbs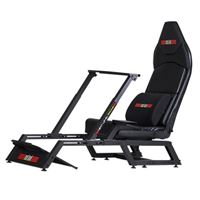 Next Level Racing F-GT Dual Position Simulator
SOLD OUT at Parkville Store