ION Audio

ION Audio Party Float Bluetooth Speaker
Overview
Party Float is a waterproof boombox that floats upright, ensuring you'll always have your music right with you in the pool. It's got 40 watts of power, so your music is vibrant and lifelike. You can stream your favorite tunes wirelessly from any Bluetooth enabled device and control everything (play/pause, next, back) with the Bluetooth track controls. It's even got a built-in mic so you can answer your calls hands-free - no need to get out of the water. Plus, Party Float has dual cup holders so your favorite beverage is right at hand. Where it should be. But the most amazing thing is the LED lighting on the underside of Party Float that illuminates the water with exciting colors for a truly special, one-of-a-kind experience. Great sound, wireless streaming, hands-free call answering and multi-color illumination - Party Float delivers the fun and refreshment like nothing else can!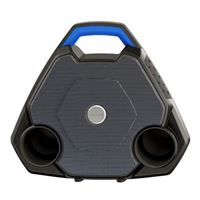 ION Audio Party Float Bluetooth Speaker
Usually ships in 1-3 business days.