ION Audio

ION Audio Compact Shelf System Hi-Fi CD/FM Stereo System with Bluetooth - Black
Overview
The Compact Shelf System is designed with a clean one-knob styling that fits anywhere and looks great. But make no mistake - this is a real: no-excuses high fidelity music system. It has lots of power and great-sounding speakers with unmistakably smooth: rich: lifelike sound. It plays virtually any music disc format: has a sensitive FM tuner: and inputs for connecting any other equipment you have: such as cassette decks and line-level turntables. Plus: it has all the modern conveniences you've come to expect: It streams music from any Bluetooth enabled device and there's a USB port for playing MP3 and WMA files from a memory stick. You can control everything with the included remote control from across the room. This is the perfect mix of superb high fidelity sound with every modern convenience you demand: all in an attractive and affordable package.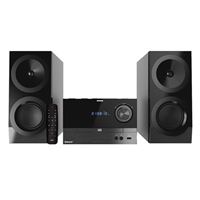 ION Audio Compact Shelf System Hi-Fi CD/FM Stereo System with Bluetooth - Black
Usually ships in 1-3 business days.