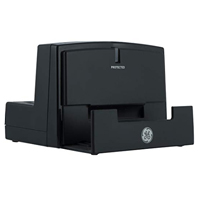 GE

GE 3-Outlet Tabletop Surge Protector 570 Joules /w Rapid USB Charging, 6 ft. Cord - Black
Overview
Whether you need to charge a laptop, tablet, smartphone or all three simultaneously, the GE Tabletop Surge Protector is the perfect solution for offices, tabletops, nightstands and more! The surge protector's convenient design features a slide-out tray to secure your smartphone or tablet while charging and protected outlets to keep your devices safe from harmful power surges. It is equipped with three outlets (including one adapter-spaced outlet), two USB charging ports and a six-foot power cord, providing flexibility to charge anywhere while ensuring an optimized charging performance. The GE Tabletop Surge Protector lets consumers enjoy instant power with two easy-access USB ports and rapid charging for multiple devices at a 2.1A/10W output. It also includes a 540 Joules protection rating for your connected devices, and 1440W of power.This product is UL listed and is backed by limited-lifetime warranty.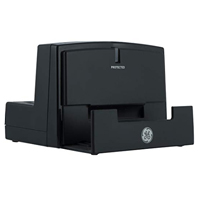 GE 3-Outlet Tabletop Surge Protector 570 Joules /w Rapid USB Charging, 6 ft. Cord - Black
Usually ships in 1-3 business days.