Micro Connectors

Micro Connectors Straight-Angle to Straight-Angle SATA III Data Cable 12" w/ Locking Latch - Black
Overview
This SATA III cable features locking latches to ensure stable connections that will not become loose due to movement or vibration. It also has a data transfer speed of up to 6 Gbps.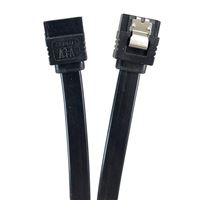 Micro Connectors Straight-Angle to Straight-Angle SATA III Data Cable 12" w/ Locking Latch - Black
Usually ships in 1-3 business days.