Inland

Inland Grip Clip Full Rotation Suction 7-12" Tablet Mount - White
Overview
Can adjust to fit most tablets and phones with screen sizes from 7-12". The mounts gooseneck, allows you to adjust tilt and swivel in all directions, making it perfect for reading and watching videos. It is made of high quality aluminum-magnesium alloy.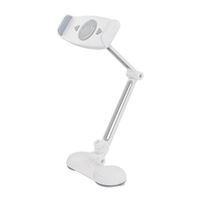 Inland Grip Clip Full Rotation Suction 7-12" Tablet Mount - White
Usually ships in 1-3 business days.