Sapphire Technology

Sapphire Technology Pulse Radeon RX 5700 Overclocked Double-Fan 8GB GDDR6 PCIe Video Card
Get up to 3 games plus 3 months of Xbox Game Pass with select AMD products

Overview
The SAPPHIRE PULSE RX 5700 offers great performance at the affordable price point that every gamer needs. With quality components and a robust digital power design, the PULSE RX 5700 delivers exceptional 1440p performance and high-fidelity gaming powered by AMDs new extreme RDNA architecture. Its finely-tuned Dual-X Cooling Technology not only keeps the GPU, memory and VRM components cool, but also at a very low noise level. The all-aluminum backplate provides additional rigidity that guarantees nothing bends and dust stays out, and it also helps cool your card by increasing heat dissipation. Pivotal SAPPHIRE features like the Quick Connect Fan, Dual Bios Support and Power Fuse are all readily available to keep your GPU running smooth and silent. Unleash your full gaming potential and embrace the SAPPHIRE PULSE RX 5700 as the beating heart of your PC!

For a limited time, Buy select AMD Radeon™ RX graphics cards and get your choice of Borderlands 3 or Tom Clancy's Ghost Recon® Breakpoint*, plus get 3 months of Xbox Game Pass for PC* and play Gears 5.
Blast your way to intergalactic loot or fight for survival behind enemy lines with AMD Radeon RX 5700 Series graphics cards. Set off on a mayhem-fueled adventure in Borderlands 3 with an in-game AMD Echo Device Communicator or prepare for battle as an Elite Spec Ops soldier in Tom Clancy's Ghost Recon Breakpoint with an in-game AMD Clan Emblem and Shirt. Wherever you're headed, get the ultimate gaming experience and performance with Radeon RX graphics cards.
ELIGIBLE PRODUCTS:

Choice of 1 Game + XBOX Game Pass:
AMD Radeon RX 5700 XT
AMD Radeon RX 5700
AMD Radeon RX 590
AMD Radeon RX 580
AMD Radeon RX 570
XBOX Game Pass Only:
AMD Radeon RX 560
AMD Radeon VII
AMD Radeon RX Vega Series
*Terms and Conditions apply.
*18+ only. Following purchase, product must be installed on system where coupon code will be redeemed. Void where prohibited. Residency and additional limitations apply. Full offer terms at www.amdrewards.com/terms. Game Pass for PC Offer: Participating retailers only for eligible purchases made July 1, 2019 through March 10, 2020 or when supply of coupon codes is exhausted. Over 100 PC Games available starting August 2019. Gears 5 available fall 2019. Game Pass code must be redeemed by June 30, 2020. Limit one promotional 3-month subscription per Microsoft account over a 12-month period. Requires the Xbox (beta) app and Windows 10 (with updates). Age restrictions and system requirements apply. Game catalog varies over time. Learn more at Xbox.com/gamepass. Choice of Game Offer: Participating retailers only for eligible purchases made September 30, 2019 through December 31, 2019 or when supply of coupon codes is exhausted. Coupon code must be redeemed by January 30, 2020.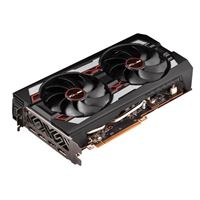 Sapphire Technology Pulse Radeon RX 5700 Overclocked Double-Fan 8GB GDDR6 PCIe Video Card
1 in stock at Fairfax Store
Located In Aisle 38►VIEW MAP