Morpheus

Morpheus HP4500B 360 Bluetooth Headphones - Black
Overview
Morpheus 360 Wireless Stereo Bluetooth Headphones On-The-Ear, Quality Stereo Sound, One-Touch Media Controls, Track Forward/Back, Volume Up/Down, Answer or Make Calls, Built-in Microphone, USB to Micro Charging Cable. Play Time Up to 8 hours, Charging time 1-2 hours. Works as a Wireless Headphone or as a Wired Headphone, perfect to use on Airplanes, PC/MAC or legacy devices with a 3.5mm Jack.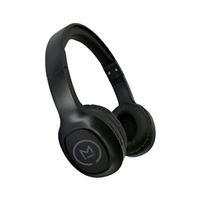 Morpheus HP4500B 360 Bluetooth Headphones - Black
Find online. Buy in store.