EZQuest Inc.

EZQuest Inc. USB-C to HDMI 4K 60Hz 6.6 ft. Cable w/ HDR - Space Gray Sleeves/ Black
Overview
The EZQuest USB-C to HDMI 4K 60Hz 2-meter cable is our latest generation 4K solution that enables the output of ultra-high definition video, digital audio and support of High Dynamic Range (HDR). The latest advanced convertor chip-set provides a 60Hz refresh rate so you can enjoy crystal clear, blur-free video with multi-channel digital surround sound from the latest USB-C/Thunderbolt 3 ready computers. The EZQuest USB-C/Thunderbolt 3 to HDMI 4K Cable enables the extension of the computer's display screen to any HDMI-based display. The cable allows you to mirror your MacBook or MacBook Pro display to your HDMI-enabled TV or display in up to 1080p at 60Hz or UHD 4K at 60Hz. EZQuest's sleek cable design is precision-engineered with anodized aluminum sleeves on each end of the cable to minimize electromagnetic interference (EMI) from other nearby electronics for pristine picture quality. All-in-One Solution EZQuest's durable cable combines the video and audio pass-through into one simple cable design.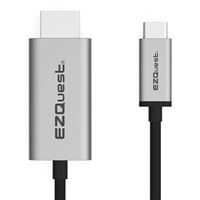 EZQuest Inc. USB-C to HDMI 4K 60Hz 6.6 ft. Cable w/ HDR - Space Gray Sleeves/ Black
Usually ships in 5-7 business days.