Emerge

Emerge Arcadia 360 Virtual Reality Headset w/ Built In Headphones
Overview
The Arcadia Virtual Reality 360 works with virtually all smartphones and even the iPod touch. Built-In Headphones enable you to control the volume from the headset. It is power through your device so you dont have to worry about batteries. Anti-glare lens helps reduce eye strain.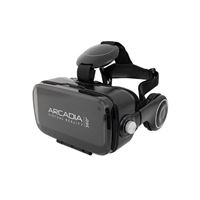 Emerge Arcadia 360 Virtual Reality Headset w/ Built In Headphones
Usually ships in 5-7 business days.