CyberpowerPC CyberpowerPC Game Master Gaming Computer

AMD Ryzen 5 3600 3.6GHz Processor; NVIDIA RTX 2060 Super 8GB GDDR6; 16GB DDR4-3000 RAM; 512GB SSD
Get up to 2 games plus 3 months of Xbox Game Pass with select AMD products
Overview
AMD Ryzen 5 3600 3.6GHz Processor
NVIDIA RTX 2060 Super 8GB GDDR6
16GB DDR4-3000 RAM
512GB SSD
10/100/1000 LAN + WiFi 5 WLAN
Windows 10 Pro
CYBERPOWERPC Gamer Master series is a line of gaming PCs powered by AMDs newest Ryzen CPU and accompanying AM4 architecture. The Ryzen 5 CPU is the core to the series with fast processing speeds and up to 6 cores / 12 threads for effortless multi-tasking. The Gamer Master also includes the latest AMD Radeon or NVIDIAs GeForce series of graphics cards to deliver high frame rates and impeccable image quality in the newest PC games.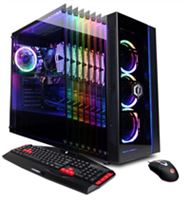 CyberpowerPC Game Master Gaming Computer

AMD Ryzen 5 3600 3.6GHz Processor; NVIDIA RTX 2060 Super 8GB GDDR6; 16GB DDR4-3000 RAM; 512GB SSD
Usually ships in 1-3 business days.