NetGear

NetGear (RBK50) AC3000 Orbi Ultra-Performance Whole Home Mesh WiFi System Refurbished
Overview
This Orbi WiFi System comes with an Orbi WiFi Router and Satellite that deliver unparalleled WiFi coverage. It covers homes up to 5,000 square feet with strong WiFi signals. Innovative Tri-band WiFi helps maximize the Internet speeds available in your home.
Thinking of leaving your cable provider?

You'll find helpful articles and FAQs about cutting the cord in our Tech Center.
---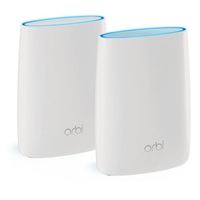 NetGear (RBK50) AC3000 Orbi Ultra-Performance Whole Home Mesh WiFi System Refurbished