Micro Connectors

Micro Connectors PWM Sleeved Fan Extension Cable 30cm (11.81 inches) - Black
Overview
Micro Connectors Sleeved PWM extension cable is great for extending and adding additional cooling to your system. With its high-quality cable assembly wrap in a flexible premium weave sleeving, this cable gives you a clean and appealing look while solving the issue of short-cabled PWM fans in a large case.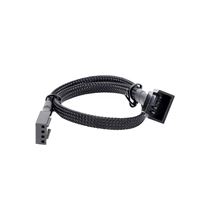 Micro Connectors PWM Sleeved Fan Extension Cable 30cm (11.81 inches) - Black
Usually ships in 5-7 business days.