Crucial

Crucial Ballistix Elite 16GB (2 x 8GB) DDR4-4000 PC4-32000 CL18 Dual Channel Desktop Memory Kit BLE2K8G4D40EAK - Black
Overview
Outplay. Outmatch. Outlast. Open fire with speeds up to 4000 MT/s. Overpower the opposition with radically increased bandwidths. And draw on the improved responsiveness, increased frame rates, and optimized latencies of Ballistix Elite DDR4 memory for an unreal gaming experience. Ballistix Elite fuels multi-core processors and crushes the memory bottleneck with the fastest Ballistix speeds and bandwidths available.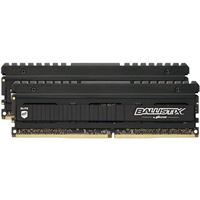 Crucial Ballistix Elite 16GB (2 x 8GB) DDR4-4000 PC4-32000 CL18 Dual Channel Desktop Memory Kit BLE2K8G4D40EAK - Black
Usually ships in 1-3 business days.