Dell Dell Inspiron 3477 All-in-One Desktop PC

23.8" Full HD IPS Touch Display; Intel Core i3-7130U Processor 2.7GHz; Microsoft Windows 10 Home; 8GB DDR4 RAM
Overview
23.8" Full HD IPS Touch Display
Intel Core i3-7130U Processor 2.7GHz
Microsoft Windows 10 Home
8GB DDR4 RAM
1TB HDD
Master your tasks: Whether you are balancing the family budget, editing vacation photos or downloading recipes, 7th generation Intel processors capably handle common tasks. DDR4 memory means you can accomplish more in less time - get twice the speed and bandwidth of DDR3, even with multiple applications open.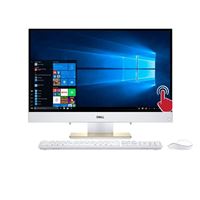 Dell Inspiron 3477 All-in-One Desktop PC

23.8" Full HD IPS Touch Display; Intel Core i3-7130U Processor 2.7GHz; Microsoft Windows 10 Home; 8GB DDR4 RAM
Usually ships in 1-3 business days.