Inland

Inland PSU Sleeved Cable Extension Kit - Black/ White
Overview
Add a high quality look to your system with these sleeved cable extensions of 16 AWG copper wire. Sleeved in a High Density Premium soft PET sleeve, your system will stand out from the rest. Compatible with 1600W+ power supplies.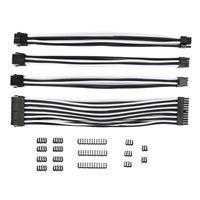 Inland PSU Sleeved Cable Extension Kit - Black/ White
Usually ships in 5-7 business days.