Alienware Alienware 7.1 Gaming Headset 510H

Hybrid Memory Foam Ear Pads, USB & 3.5mm Connectivity - White
Overview
Hybrid Memory Foam Ear Pads, USB & 3.5mm Connectivity - White
Best-in-class custom-tuned 50mm 20Hz - 40kHz drivers for a high resolution audio experience. 7.1 Surround Sound featuring Signature Alienware Immersive Audio. Hybrid of plush memory foam, sports fabric and leatherette on the earpads designed to achieve optimal cooling and comfort while enhancing noise isolation. Ideal clamp force ensures that there is no slippage during gameplay. Detachable USB connection provides cross-platform compatibility via a swappable 3.5mm cable for use with Xbox One, PS4, Nintendo Switch and mobile devices.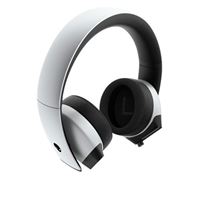 Alienware 7.1 Gaming Headset 510H

Hybrid Memory Foam Ear Pads, USB & 3.5mm Connectivity - White
Usually ships in 5-7 business days.