Polymaker

Polymaker PolyFlex TPU95 1.75mm Orange TPU 3D Printer Filament - 0.75kg Spool (1.6 lbs)
Overview
PolyLite is a family of 3D printing filaments made with the best raw materials to deliver exceptional quality and reliability. PolyLite covers the most popular 3D printing materials to meet your everyday needs in design and prototyping. PolyFlex TPU95 is a thermoplastic polyurethane (TPU) based filament specifically engineered to work on most desktop 3D printers. It has a shore hardness of 95A and can stretch more than 3 times its original length.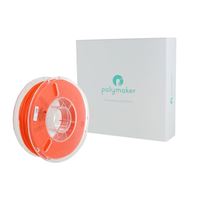 Polymaker PolyFlex TPU95 1.75mm Orange TPU 3D Printer Filament - 0.75kg Spool (1.6 lbs)
Usually ships in 5-7 business days.