APC

APC Essential SurgeArrest 3 Outlet Wall Tap with 5V, 3.4A 2 Port USB Charger
Overview
APC by Schneider Electric brings to market a slim and minimalistic design while providing the same APC trusted protection. The wall tap form factor elevates your average wall outlet to have 3 outlets and 2 USB ports all while having reliable surge protection.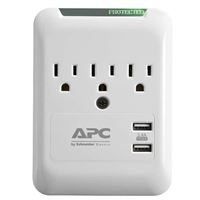 APC Essential SurgeArrest 3 Outlet Wall Tap with 5V, 3.4A 2 Port USB Charger
Usually ships in 5-7 business days.