Acer Acer Aspire C 24 All-In-One Desktop PC

23.8" Full HD LED Display; Intel Core i3-7130U Processor 2.7GHz; 8GB DDR4 RAM; 1TB Hard Disk Drive
Overview
23.8" Full HD LED Display
Intel Core i3-7130U Processor 2.7GHz
8GB DDR4 RAM
1TB Hard Disk Drive
Microsoft Windows 10 Home
Make your home decor a reflection of your familys flair with the beautifully designed Aspire C 24 All-in-One Desktop. Elegance and style tell only half the story as this ultrathin All-in-One - with its powerful 7th gen Intel Corei3 processor and fast wireless connectivity - ensures amazing performance and maximum fun. Enjoy a crisp and clear entertainment experience on the Full HD display with wide viewing angle, special protection screen to reduceeye strain, and remarkably amazing sound. A really cool detachable webcam gives you the freedom to lift it from its cradle and capture surrounding images freely while chatting face-to-face. Your computing experience neverlooked or felt better!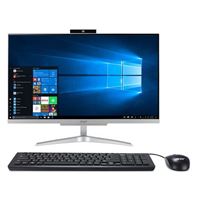 Acer Aspire C 24 All-In-One Desktop PC

23.8" Full HD LED Display; Intel Core i3-7130U Processor 2.7GHz; 8GB DDR4 RAM; 1TB Hard Disk Drive
Usually ships in 1-3 business days.