MSI

MSI Armor GeForce RTX 2060 Super Overclocked Dual-Fan 8GB GDDR6 PCIe Video Card
at Cambridge StoreSold Out

Overview
GeForce RTX is powered by Nvidia Turing, the world's most advanced GPU architecture for gamers and creators. Get truly next-gen performance and features with dedicated AI and ray tracing cores for the ultimate experience.

The new GeForce® RTX SUPER™ Series has even more cores and higher clocks, bringing you performance that's up to 25% faster than the original RTX 20 Series and 6X faster than the previous-generation 10 Series GPUs. It's time to gear up and get super powers.
Key Features:
RT Cores: Dedicated ray tracing hardware enables fast real-time ray tracing of objects and environments with physically accurate shadows, reflections, refractions, and global illumination
Tensor Cores: Experience AI-processing horsepower that accelerates gaming performance with NVIDIA DLSS
Concurrent Floating Point and Integer Processing: Turing GPUs more efficiently process the compute heavy workloads of modern games
Variable Rate Shading: Shaders can focus processing power on areas of rich detail, boosting overall performance
Mesh shaders: Advanced geometry processing supports an order of magnitude more objects per scene, allowing the creation of rich, complex worlds
Game Broadcasting: Discover superior streaming quality and higher game performance with the new Turing Encoder
NVIDIA Studio: Turing GPUs turn your PC into a digital studio, with incredible performance boosts in video editing, 3D animation, and other content-creation tasks thanks to dedicated RT and Tensor Cores
Unified Memory Architecture: This is a new architecture with twice the cache of its predecessor for better performance in modern games
Ultra-fast GDDR6: Experience up to 496 GB/s of memory bandwidth for high-speed, high-resolution gaming
See every game come alive with super-fast ray tracing that delivers physically accurate shadows, reflections, and lighting. And tap into Tensor Cores for super-powerful AI-processing. Advanced memory, performance boosts, and processing technologies make these GPUs the perfect weapon for hardcore gamers. Gear up and get super powers.
The GeForce RTX 2080 SUPER is powered by the award-winning NVIDIA Turing™ architecture with more cores, higher clocks, and faster memory for ultimate performance and incredible new levels of realism. It's time to gear up and get super powers.
© 2019 NVIDIA Corporation. All Rights Reserved. NVIDIA, the NVIDIA logo, NVIDIA Turing, GeForce, and RTX SUPER are registered trademarks and/or trademarks of NVIDIA Corporation in the United States and other countries. All other trademarks and copyrights are the property of their respective owners.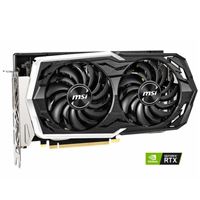 MSI Armor GeForce RTX 2060 Super Overclocked Dual-Fan 8GB GDDR6 PCIe Video Card
at Cambridge StoreSold Out