Corsair

Corsair iCUE 465X RGB Tempered Glass ATX Mid-Tower Computer Case - White
Overview
The CORSAIR iCUE 465X RGB is a mid-tower ATX smart case that offers brilliant visuals showcased by two tempered glass panels. Three included CORSAIR LL120 RGB fans and an iCUE Lighting Node CORE smart RGB lighting controller combine with powerful iCUE software for fully customizable illumination out of the box. Expand your cooling potential with room for up to 6x fans or multiple radiators and a Direct Airflow Path layout ensuring obstruction-free airflow to your components. Install up to two 3.5in HDDs and four 2.5in SSDs for the storage you need and keep your system clean and tidy with intuitive built-in cable routing and three removable dust filters.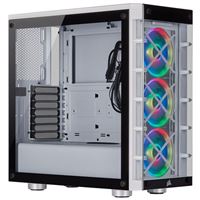 Corsair iCUE 465X RGB Tempered Glass ATX Mid-Tower Computer Case - White
Usually ships in 1-3 business days.