Corsair

Corsair SP120 RGB Pro 120mm Fan Kit - Triple Pack
Overview
The CORSAIR iCUE SP120 RGB PRO Performance Triple Fan Kit boasts 24 individually addressable RGB LEDs - eight on each fan - for the cooling you need and the visuals to impress. The included Lighting Node CORE lets you control your lighting with simple USB 2.0 and SATA connections, minimizing cable clutter. Customize your lighting with brilliant patterns and effects and synchronize it with your other compatible devices using powerful CORSAIR iCUE software. The translucent 120mm fan blade, spinning up to 1,400 RPM and pushing up to 52 CFM of air, provides high airflow and static pressure without distracting from your spectacular lighting effects.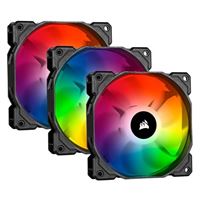 Corsair SP120 RGB Pro 120mm Fan Kit - Triple Pack
Usually ships in 5-7 business days.