EK

EK CryoFuel Dye Pack
Overview
This small creativity pack will allow users to transform their clear or white EK-CryoFuel coolants into beautiful, personalized, one-off colors. Also backed up by rigorous testing, EK has made sure the EK-Dye Pack will follow the success path of EK-CryoFuel coolants. One Dye Pack bottle on average contains roughly 340 drops, but the number may also vary depending on the dosage. If youre aiming for a more intense shade, increase the dye quantity with appropriate mixing ratios.
See Other Water Cooling Coolants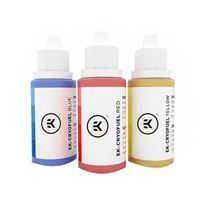 EK CryoFuel Dye Pack
Usually ships in 5-7 business days.