ASUS

ASUS GeForce RTX 2060 Super ROG Strix Overclocked Triple-Fan 8GB GDDR6 PCIe 3.0 Video Card
Overview
ROG Strix GeForce RTX 2060 SUPER OC edition 8GB GDDR6 with powerful cooling for higher refresh rates and a super performance boost. Dedicated ray tracing hardware enables fast real-time ray tracing of objects and environments with physically accurate shadows, reflections, refractions, and global illumination. Turing GPUs more efficiently process the compute heavy workloads of modern games. Experience up to 496 GB/s of memory bandwidth for high-speed, high-resolution gaming. Wing-blade fan design incorporates drooped tips on each blade to reduce drag.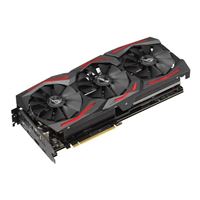 ASUS GeForce RTX 2060 Super ROG Strix Overclocked Triple-Fan 8GB GDDR6 PCIe 3.0 Video Card
Find online. Buy in store.