BLU BLU G6 Unlocked 4G LTE - Black Smartphone

GSM; 3 GB RAM/64 GB Storage; 5.5" Display; 13 Megapixel Camera
Overview
GSM
3 GB RAM/64 GB Storage
5.5" Display
13 Megapixel Camera
Android 9.0
Dual Micro/ Nano SIM
The BLU G6 excites users with its trendy gradient effect. The battery cover is treated with a dual paint procedure that gives it the illusion of a captivating 3D gradient tone.The G6 gives users a perfect display size that is both useful and compact. A 5.7-inch HD Plus curved glass display with a 720 x 1440 resolution and 282ppi, the G6 brings luminosity to the eye. Looking to snap that spontaneous moment in life that you want to save forever? The G6 is equipped with 13 megapixels and LED Flash cherishing valuable memories. Make sure to also include yourself with the 8 megapixels Selfie camera suited with BLU Final Touch ensuring all images are flawless. Unlock your smartphone with the press of a finger for quick access. The G6 ensures total security for all your important applications and files.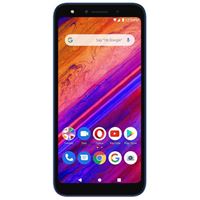 BLU G6 Unlocked 4G LTE - Black Smartphone

GSM; 3 GB RAM/64 GB Storage; 5.5" Display; 13 Megapixel Camera
Usually ships in 1-3 business days.